DSE-E800
Engine Only Control Module
The DSEE800 engine control module has been designed to provide flexible control and monitoring for engine driven pumps, compressors, hydraulic power packs and off-highway machinery. The control module can be used with electronic and mechanical diesel engines and offers outstanding flexibility via its integrated PLC editor. This flexibility enables users to match required operating modes unique to their applications.
A number of comprehensive communication and system expansion options allows users to extend the input/output capabilities of the system and communicate across complex networks.
---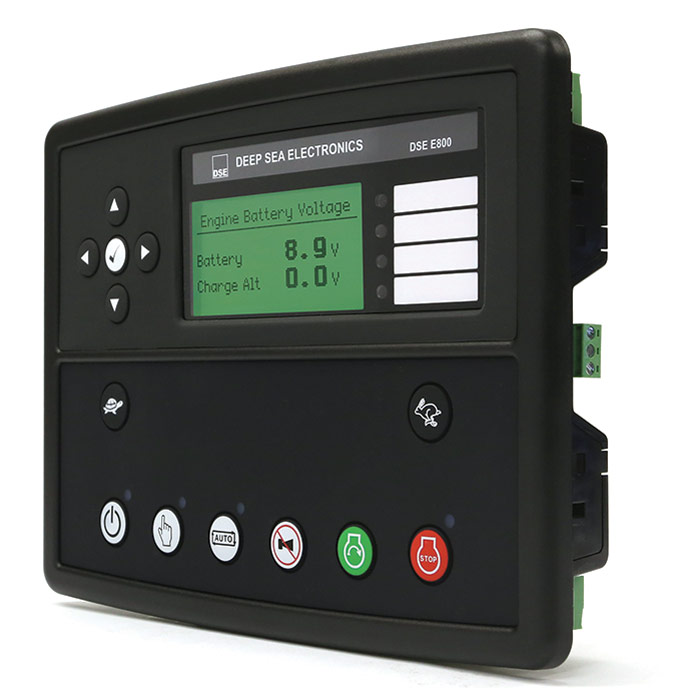 OVERALL SIZE
240 mm x 172 mm x 57 mm (9.4" x 6.8" x 2.2")
PANEL CUTOUT SIZE
220 mm x 160 mm (8.7 " x 6.3″)
MAXIMUM PANEL THICKNESS
8.0 mm (0.3")
WEIGHT
0.88kg
PRODUCT VARIANTS
E800-01 – E800 Engine Control Module                   
ADDITIONAL FEATURES
Multiple language options.
Power save mode.
Configurable timers & alarms.
Engine maintenance alarms (3).
Engine run time scheduler.
Charge alternator failure alarm.
Tier 4 CAN engine support.
Manual fuel pump control.
USB connectivity.
Automatic speed ramping.
SCADA monitoring.
Modbus RTU/TCP support.
SMS messaging start & stop functionality.
---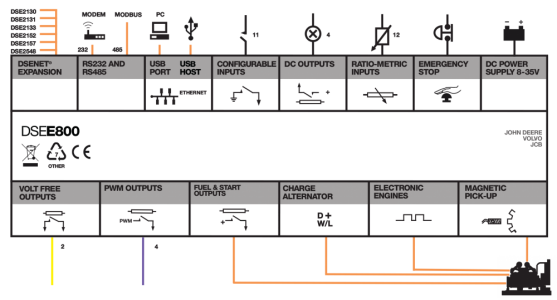 ---
Related Documents

E800 Datasheet.pdf
E800 Installation Instructions.pdf
E800 Manual.pdf